Zero Knowledge Encryption is when your data is scrambled into cipher text using an encryption key that only you have access to. The process guarantees that only you, and no one else, has access to this data in its true form.
What makes DropSecure highly secure, is its military grade end-to-end encryption. However, if required by law, DropSecure could intercept the keys during transit. Zero-knowledge transfers avoid this by not sending keys through the DropSecure system, making it impossible for us to read or encrypt your data regardless of any legal requirement. The zero-knowledge option requires both parties to register with DropSecure using their email addresses.
*Zero-knowledge transfer facility is available for registered users only.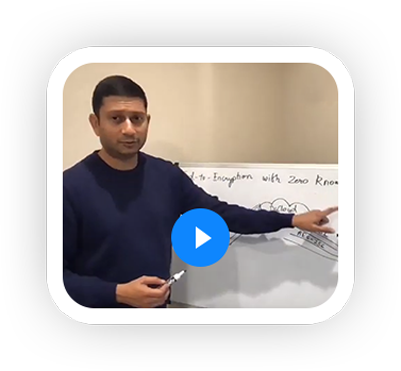 End-to-End encryption with Zero Knowledge at DropSecure
Amish Gandhi (Founder, DropSecure) illustrates how DropSecure uses end-to-end encryption with Zero Knowledge to stay safe, private and protected at all times.
---