GET APP CATEGORY LEADERS IN FILE SHARING 2023
Get App has awarded DropSecure a place in the Category Leaders in File Sharing 2023. With a high score on functionality, ease of use, value for money, likelihood to recommend and customer support, DropSecure empowers businesses and individuals to meet your diverse file sharing needs, ensuring that your business operations run smoothly. Being recognized as a Category Leader by GetApp is a testament to our dedication to excellence. We are continually working to enhance our product and services to meet your evolving needs.
File Sharing Front Runners 2023 by Software Advice
DropSecure is delighted to be listed as a 'Front Runners in the File Sharing Segment 2023' by Software Advice. DropSecure's placement on this grid implies that it is a file-sharing software that is both well-received by its users in terms of customer satisfaction and provides a user-friendly, intuitive experience in terms of usability. Users expect a satisfying and easy-to-use file-sharing solution when choosing DropSecure.
Category Leader in File Sharing 2022
Gartner's GetApp has rated DropSecure as a 'Category Leader in File Sharing 2022' with an overall rating of 5 on 5. The 'Category Leader' award has recognized DropSecure's exceptional performance in the key areas of ease of use, value for money, functionality, customer support and likelihood to recommend.
Frontrunnners in the File Sharing category for 2022
DropSecure is a proud recipient of Software Advice 'Frontrunnners in the File Sharing category for 2022' scoring excellent ratings on the primary dimensions of Usability and Customer Satisfaction. The customer ratings of 4.96 out of 5 are amongst the highest in the industry with perfect ratings for ease-of-use, functionality, customer support and value for money.
Best Ease of Use 2021
The award from Capterra for 'Best Ease of Use 2021' and Capterra's Best Value to DropSecure are a great way to show how the product compares to its competitors — all based on positive, verified reviews and strong feedback from the users. This Review badge serves as a strong trust-building element from a reputable third-party website, and has ratified the buyer's confidence in DropSecure.
Best Functionality & Features 2021
GetApp awarded DropSecure the 'Best Functionality & Features 2021' badge on the basis of our success to be an ultra-secure file sharing software, proving that the platform design, its security features and ease of use have impressed not only our customers but many market experts and software critics equally.
Rising Star 2021
DropSecure was chosen as the 'Rising Star 2021' by FinancesOnline. The review features DropSecure as one of the top 50 File Sharing Software products after evaluating recent market entrants who are providing solutions that are very efficient and are excelling at solving the myriad of problems that users are faced with worldwide when it comes to secure file sharing.
The Great User Experience Award 2021
"The Great User Experience Award 2021" was awarded by FinancesOnline to DropSecure for our customer focus and high-quality software design that we have delivered over a period of time. FinancesOnline has rated DropSecure very high on the User Satisfaction with a total score of 8.0/10 after a period of detailed tests. Actual clients of DropSecure have an average satisfaction rating with the product at 93%.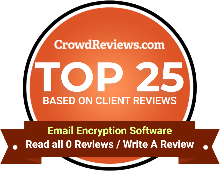 Content for Best Email Encryption Software
CrowdReviews.com has rated DropSecure amongst the top 25 Best Email Encryption software. DropSecure uses military-grade, multidimensional and dynamic encryption methods to safeguard data making us one of the most secure collaboration platforms.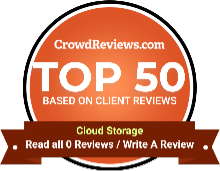 Content for Cloud Storage Badge
DropSecure has been rated in the top 30 by CrowdReviews.com for being the most secure Cloud Storage platform. DropSecure's data encryption via SSL, in addition, to AES-256 encryption while data is in transit ensures a double layer of protection. Data stored on the DropSecure servers in this AES-256 encrypted format and keys that are never available on the server makes us one of the safest Cloud Storage Platforms.
Our security goes beyond compliance







Secure cloud sharing starts with DropSecure
With DropSecure, the keys to unlock your data are never shared with anyone you didn't intend to share with, including us. That means you get real privacy behind our military-grade encryption and file transfer technology. Discover the most secure way to share your documents.